Cosmetic, Family, Implant and General Dentistry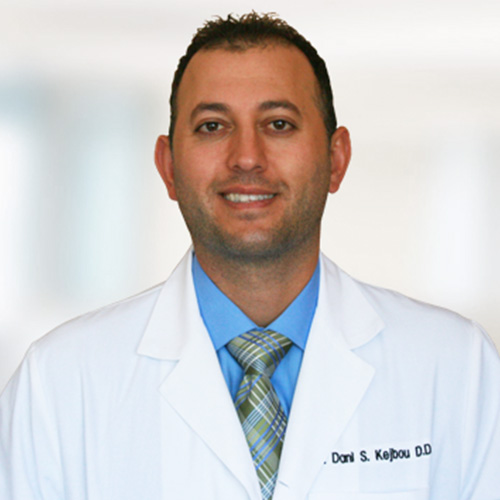 Dr. Dani Kejbou has had the honor of providing dental care to the numerous wonderful patients for over fifteen years. His undergraduate education was completed at Wayne State University where he obtained his bachelors degree in Chemistry. In 2004, he proudly achieved his greatest accomplishment to date and received his dental degree from the University Of Detroit School Of Dentistry.

First and foremost, his primary concern is to provide the best possible oral care for his patients based on their dental needs. His approach to dentistry is always conservative and believes in dental treatment to preserve natural tooth structure prior to any extensive reconstructive treatment. His ultimate pride comes in listening to each individuals personal needs then recommending an honest complete dental treatment, as each patient needs and circumstances are different than the next.

He takes pride in being a general dentist and confidently practices all aspects of dentistry, from routine dental treatments, cosmetics to oral surgery. In addition to his remarkable dental training from the University of Detroit Mercy, he has completed numerous hours of continued dental education allowing him to study the newest advancements in today's dentistry and implement them into his daily practice. His continued education include orthodontia care certified through F.O.R.C.E. in 2005, and Implant dentistry through Engel Institute certified in 2014.

When Dr. Kejbou is not practicing his art of dentistry, he loves to spend time with his beautiful family. Dr. Kejbou is married and has a son and a daughter. He is an avid golfer and sports fanatic.